Artisan Markets: Tips for Joining and Selling Art
Offering your art for sale at an artisan market is an easy way to increase sales and visibility without committing to a brick-and-mortar store.  You can interact with customers in a more personal setting and share the stories behind your work face-to-face.  Follow this step-by-step guide to joining and selling at artisan markets and learn to market your art in the "real world."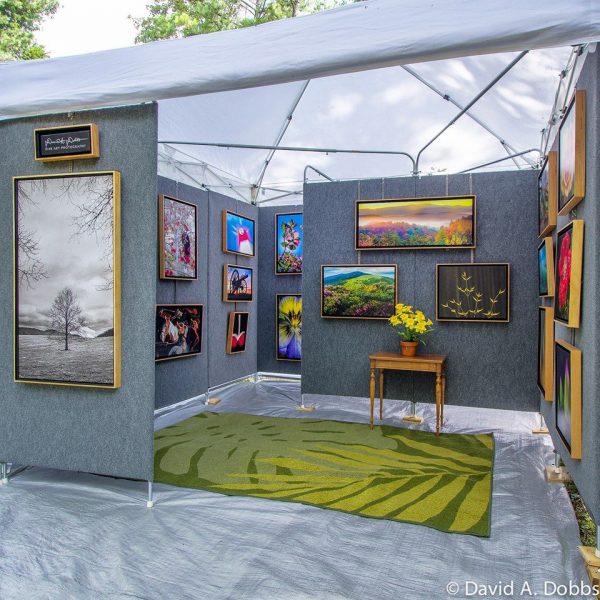 Find a market where you can meet your target audience
Do some market research.  If you've been selling online, you may already have an idea of who your target customer is.  Here are a few questions to ask to get to know your ideal art buyer:
How much money do they usually spend?
Find a market that correlates with this information.  (A quick search on Google will bring up all the markets in your area.)  Wade through these listings and highlight the ones you think your ideal buyer might attend.  Many art festivals and fairs recur annually, so you might want to create a calendar so you can plan your time and marketing budget accordingly.
What does it cost to display at an art festival?
The cost of joining an artisan market or art fair varies widely.  In some cases, you can find local artisan markets where you can rent a stall for free. In other cases, rental rates can soar to thousands of dollars for a large, multi-day event. Factors that will affect the cost include:
Size of fair and expected attendance: Not surprisingly, fairs that attract thousands or tens of thousands of visitors can command higher fees.  In part, they need to recoup the hefty marketing expenses they incur to promote the fair. 
Location: You'll pay more in a major city than in a small town or rural area.  Expect fees to track closely with prevailing commercial rental rates and the overall cost of living.  If it's expensive for the organizers, they'll likely pass that cost to artists and makers who rent booths. 
Public vs private: Many municipalities will put on local art festivals that support small, local businesses or a specific demographic (women arts, artists of color, etc.).  In some cases, participation is free if you meet the qualifications.  In contrast, for-profit art markets may charge thousands of dollars to join.
Art Market Pricing: Upfront Fee vs Share of Revenue
Make sure you read the fine print and understand the fee structure of any given artisan market. Most of the time, you'll pay a single, upfront fee for a booth or stall. That fee might vary depending on the location of your stall — a large booth or premium corner lot may come with an uncharge.
In contrast, some art festivals charge artists a commission on sales, much as a gallery does. For example, the Laguna-Art-A-Fair requires all sales to go through a centralized sales booth and charges artists a commission of 17 to 20% (in addition to a modest up-front booth fee). Certainly, the commission structure will be lower than that of a gallery (which can reach 50% of the sale price), given that the artisan market still expects you to be on hand to promote and sell your own work.
It's not that one fee structure is better or worse than another. As an artist, you simply need to decide which model is best for your business model. With an upfront fee, you can plan your expenses precisely, and your risk is all upfront. On the other hand, with a commission structure, you pay little or nothing if you don't sell any pieces, but it might cost you dearly if your art is a hit.
Apply for a stall
Most markets list application guidelines on their website.  Read them thoroughly before applying.  A clear application will give administrators insight into how you present your artwork and if you'll be a good fit for their venue.
If possible, introduce your work with clear, high-quality images, and keep the descriptions of your products concise.  Include any images from previous market participation.  Don't worry if it's your first time.  A mock display made at home, or a detailed description of your envisioned set-up will suffice.  Browse similar markets for inspiration beforehand.
Pro tip: In the run-up to the holidays, there's no better time to join an artisan market!  Try to secure a spot in mid-fall to take advantage of holiday buying.  Read our guides on how to make Christmas art that isn't a cliche, and our comprehensive marketing plan for the holiday art buying season.
Prepare for success (the night before)
It's surprising how one small oversight can make or break your day.  Double-check to see what is included in your market stall fees.  Will there be tables and chairs?  Shelter in outdoor markets in case of rain?  Do you need power?  These differ for every market.  Bring with you anything needed that's not included.  Create a checklist of all the things you'll need.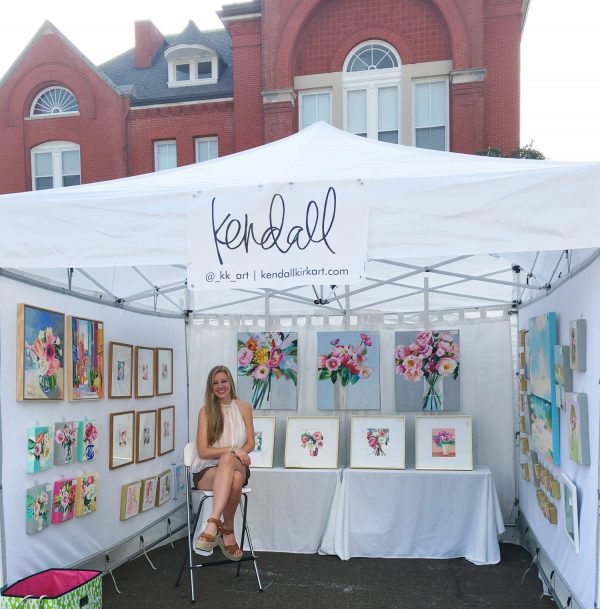 Ensure easy purchasing
Have clear, consistent pricing across your items so the customer understands your rates.  For example, consider pricing by size — one for small works, another for medium, and the highest for larger pieces.  Having a mixture of price points ensures something for every budget.
Consider pricing according to the venue.  If larger paintings are too expensive for this particular market, bring smaller works.  Make sure your items are clearly labeled with prices visible, as people may feel awkward asking.
Accept all possible payment options to maximize sales, including credit cards.  Card readers start from as little as $20.  People carry less cash nowadays.  You'll miss sales or slow transactions if people need to visit the ATM.
Save time by pricing ahead of arrival.
Present your art to sell
Showcase your work in the most visually appealing and practical way possible.  A minimalist layout lets passersby feel like they've seen all your work in one glance, without stopping.  Consider sketching a potential layout, experiment at home, and visit sites like Pinterest for inspiration.  Think about what will draw viewers to your stall and keep in mind what they will see at eye level.  Utilizing vertical space will give your stall extra impact.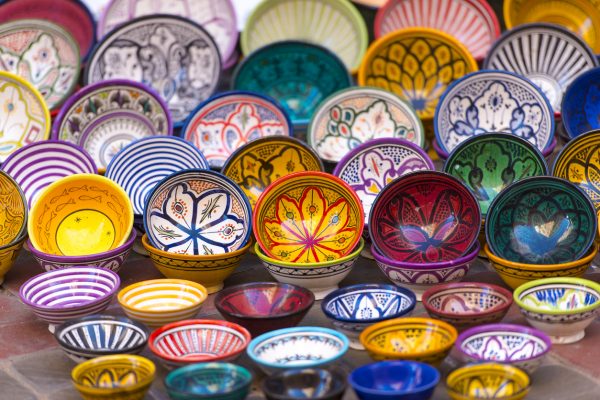 Personal touches make you stand out.  Make a festive banner with a custom logo on it, and carry this design over to bags, boxes, stickers, or tags.   Over time, people will learn your signature style and know to look for it at other venues.   Keep the most expensive items toward the back to protect them and remember, the more inviting the layout, the more curious people will be.
Engage with visitors
Here, it's all about finding balance.  If you're too laid back, you risk losing business.  But being too pushy can be off-putting.  Say hello to passersby, and engage with potential customers.  Even a smile can go a long way!  Increase your approachability by standing up occasionally, and never be on your phone.  If a person approaches, make yourself available, and ask them if they are looking for anything in particular. Tell stories and create conversations.  Sharing the backstory behind an artwork can help the customer feel connected to the piece and increase the likelihood of a sale.
Market Your Art for the Long Term
Artisan markets are about more than just sales.  They can be great advertising opportunities to find new fans and get your work known.  Even if someone doesn't buy your art during an art fair, they may do so in the future.  Follow these tips to ensure each art fair plays into your long-term strategy for business growth:
QR codes that link to your website: Post QR codes in visible locations around your stall.  Make sure the code connects visitors to an appealing page on your website.  With an Artweb website, artists can create unlimited pages for each festival, fair, or gallery exhibit.
Cards: This low-cost, low-tech marketing strategy is a good way to stay at the top of mind for future art buyers.  Many art lovers collect cards at art festivals and save them for future gift-giving ideas.  Postcards or smaller business cards should be visually appealing and showcase your art.   Conveniently, Vistaprint offers a free QR code generator and is an affordable option for printed materials.
Newsletter Sign-up: Email marketing is a low-cost way to nurture your audience.  But to use this tactic, you first need to collect email addresses (with visitors' permission, of course).  No one wants to give away their email address for free, so offer a promotion or giveaway, such as exchanging an email address for an entry into a raffle for a particularly striking work of art or a discount off their first purchase.
What's Next?
Make a note of what tends to sell and what doesn't, and use that information to improve your presence at an artisan market.  Most importantly, don't get disheartened on the bad days. I t can be frustrating when business is slow, but it doesn't mean you should give up.