Artists' Gardens – Nancy Paris Pruden
Inspiration Close at Hand
Artists' Gardens
Nancy Paris Pruden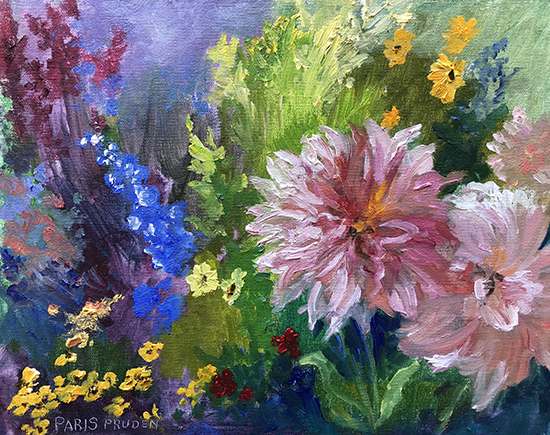 Front Yard Garden          8 x 10″          Plein Air Oil     © Nancy Paris Pruden

   In response to our Perspectives "Inspiration Close at Hand" call for paintings created in artists' gardens or other personal spaces, we received these two images from artist, Nancy Paris Pruden. Although inspiration can be found far and wide, many of us have found "diamonds in own backyard", especially throughout the confinement of the pandemic. There can be great creative benefits to painting a more intimate and personal world throughout the changes of light and season.
    Pruden writes about Front Yard Garden (above) "The garden is such a riot of color and shapes it was difficult to organize a composition until I decided to make one dominant flower up close and big. That way I could believably vary shapes to get a natural focus."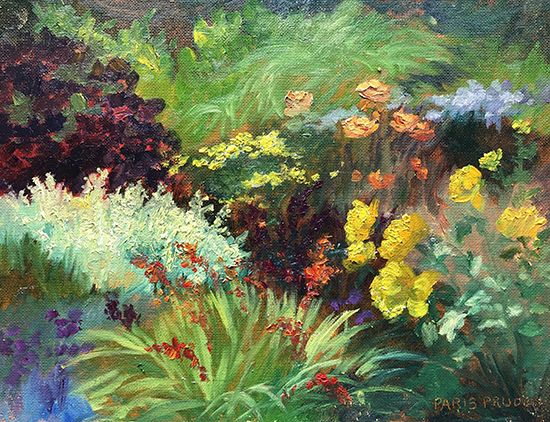 English Garden     9 x 12″     Plein Air Oil     © Nancy Paris Pruden

   "In English Garden, I tried to organize it by making a subtle grid using an "X " composition. Using defined dark and light shapes hopefully kept the painting from being just a jumble of color. I think organizing a garden is as much an art form as painting it."
   Inspiration for these works comes from summers spent at Pruden's son's San Rafael, California gardens. Pruden is a classically trained, life-long Texas artist. She travels the world leadng painting workshops in France, Italy, Ireland, Portugal and Mexico. You can view more of her work at:  Nancy Paris Pruden Fine Art.
If you have paintings of your own garden landscape spaces that you'd like to share, drop us a line.

Inspiration from the gardens of artists.

Copyright Hulsey Trusty Designs, L.L.C. (except where noted). All rights reserved.