Top 5 Things NOT to Miss at The Other Art Fair: Dec 22
Kicking off on the first day of Summer is the return of the The Other Art Fair's popular edition, held December 1-4 at The Cutaway.
The Other Art Fair continues its' mission to reframe art, and provide an inclusive space for long time collectors and new time art lovers alike to enjoy it. The upcoming edition will feature 135 exhibiting artists, features, workshops, tattoos and exclusive cocktails, shaken (not stirred) by Bombay Sapphire – just for good measure!
'Art As Activity' By Dj Breda
'Art As Activity' is the multidisciplinary installation by Daniel Breda. The exhibition explores the concept of 'dynamic sensation' in neo-futurist art through the synchronization of virtual reality and installation art. The exhibition will portray Breda's love of creating active participation, alongside his painting practice to form juxtapositions between innovative technology and traditional art.
Executed with the Oculus Quest 2, Unity 3d, and a physical installation,  'Art as Activity' will personify this concept in the form of a physical and virtual ball pit. Traditionally a play environment, the ball pit assists children to develop their sensory motor skills in their formative years. Similarly, VR has been used in contemporary space as an extension of human cognition. The synchronization of these tools will form an uncanny unification of real and virtual space as we know it. Enabling gallery participants to be immersed in a physical ball pit, whilst interacting with the VR ball pit. The simplicity of the ball pit will identify the contemporary human relationship with our 'whole' environment and understanding of real space.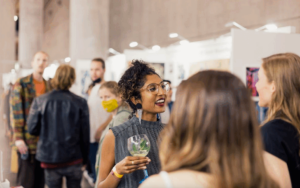 Stir Your Creativity with Bombay Sapphire
In celebration of their new Mediterranean lemon gin Bombay Citron Pressé, Bombay Sapphire has created a unique pop-up bar at The Other Art Fair, giving art enthusiasts a chance to try exquisite cocktails. In collaboration with some of Sydney's best bartenders, you can enjoy four exclusive pre-batched cocktails on offer each showcasing a flavour from the famous House of Bombay range – 'Presse-up' (Bombay Citron Pressé Gin), Rubus (Bombay Bramble Gin), Sunset Fizz (Bombay Sunset) and 'By Any Other' (Bombay Sapphire).
Alongside the bar and bringing the zesty flavours of Citron Pressé to life are five artworks by independent Australia artists – all in the running to win the Crowd's Favourite and the $2500 prize.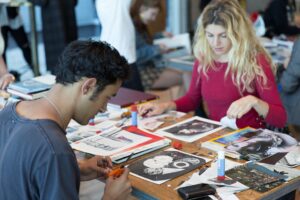 Sydney Collage Society
When you've checked out all the art and need a way to channel your inspiration, the knowledgeable artists from the Sydney Collage Society are here to help.
Join a drop-in workshop where you'll learn about different types of collage, using colour, texture, form and even image placement.  The workshops are open to all skill levels, so you can head home with your very own collage works and some newfound knowledge about various collage styles!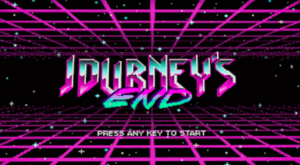 Journey's End by Kasia Frankowicz 
Feeling lucky? Introducing Journey's End by Kasia Frankowicz, a computer game where everyone's a winner – it might be big, it might be small. For a fee, visitors will be invited to play her game at the fair. Play along and whatever the outcome, you'll win a Kasia Frankowicz artwork. Win win. In Kasia's words, "It is often said that life is like a game, the rules are different for everyone, arbitrary challenges determine if you are good or bad, and often you fail simply because of the hand you are dealt. You get ahead, you fall behind, you play along, until the end you realise the points meant nothing. Life is not a game, it is a journey."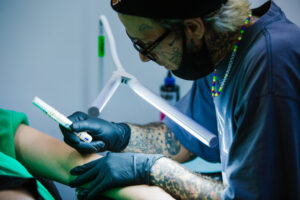 Get Inked 
Get inked live at the Fair with exclusive designs by our resident tattoo artists including Stefan S,  inksphinx and Nah Mate Pokes. Starting from $150, take home a piece of art where you are the canvas.