4 Questions With Grace Korandovich
If you've ever taken a selfie at Easton Town Center, chances are you've posed with one of Grace Korandovich's luscious flower valances. The artist finds it hard to contain her creativity, her bold and beautiful art displays and installations scale walls and fill rooms for clients including the Diamond Cellar, The Athletic Club of Columbus, Flowers & Bread, Stile Salon and other area small businesses.
"A lot of what I create is inspired by the environment, organic shapes, movement and the theory of flow. Sometimes, I'm just connecting with the material. I am an airy light feel of an artist. I like to play with texture a lot," says Korandovich, who owns Grace K Designs.
Collaborating with fashion designer Tracy Powell, Korandovich will be displaying what she describes as a "Mad Max themed design" at this year's Wonderball. Below she tells us about her journey from lacrosse to art, and how she is flourishing by thinking outside of canvas.
Grace Korandovich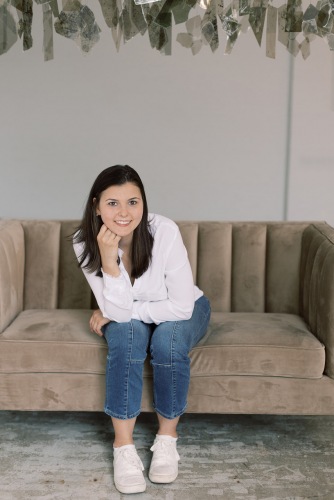 Q: You started college as an athlete, but also had an interest in art. How did you reconcile both interests?
Korandovich: I've always been the nontraditional athlete and also the nontraditional artists. Both have balanced me my whole life. I went to San Diego State University to play lacrosse. I took that route versus going to art school, and it became more of a challenge than I realized. I double majored business and art, and I had to take a step back from my art and make it a minor. It was just too hard to do on the road. Then I realized that there was a lack of balance in my lacrosse playing.
I wasn't performing well and it was because I didn't have my regular art routine in my life. I took some time off between undergrad and graduate school, just trying to figure out my life. I realized I really missed my art and that's when I decided I needed to make that my focus again. It was a natural fit to go to the Columbus College of Art and Design for grad school. I took a risk and it was the only place I applied.
Q: Your work includes traditional canvas art, but even some of that comes off of the canvas. Have you always been so intentionally big and bold with your work?
Korandovich: I went from big to small and small is not really small for me. Most of my work is made up of multiples. Each object could stand alone, but I like to add multiples together to create a larger piece. In grad school I had a mentor who challenged me to go small, because I had to learn that not everyone has a two-story wall in their home that they could put artwork on that spans 30 feet wide! I went through a process to try and scale down my work. The smallest I've gotten to is 12×12. I tend to create large pieces and tailor back.
Q: During the pandemic, it was great to experience your artwork at Easton at a time where most couldn't experience art in museums and galleries. Can you talk about bringing your art to these nontraditional spaces?
Korandovich: It's about a connection and making someone feel something. My goal is to give people joy, passion, something just to stop them in their tracks. A little something to make their day better.
Q: Your Wonderball installation is a collaboration with fashion designer Tracy Powell. What's it like collaborating with another artist from a different discipline?
Korandovich: Most artists are very open to collaborations. The plus for me is learning another way of thinking or another method of doing and seeing things through other people's eyes. I think it can teach you a lot. I think collaboration can only make you stronger as an artist.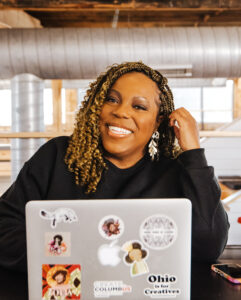 Donna Marbury is a journalist, communications consultant and owner of Donna Marie Consulting. The Columbus native was recently named as a board member of Cbus Libraries, and stays busy with her 7-year-old son and editorial assistant, Jeremiah.